At some point, you have probably searched for a car wash near me, hoping to find the right one for your car. You should consider looking for the nearest hand car wash to me instead. A professional car detailing company would be able to do a better job than you could, which is a major plus. Besides, you avoid all of the hassle of doing it yourself. A nearby car wash is easy to get to, given how close it is to you. However, how do you know if they will do a great job? Is it even the best option for what you need?
We are going to go over the things you should consider when you are looking for the nearest car wash to me. You will learn about the different types of car washing services available, showing you that the closest service may not be the ideal choice.
Things to Consider When Looking for a Car Wash Service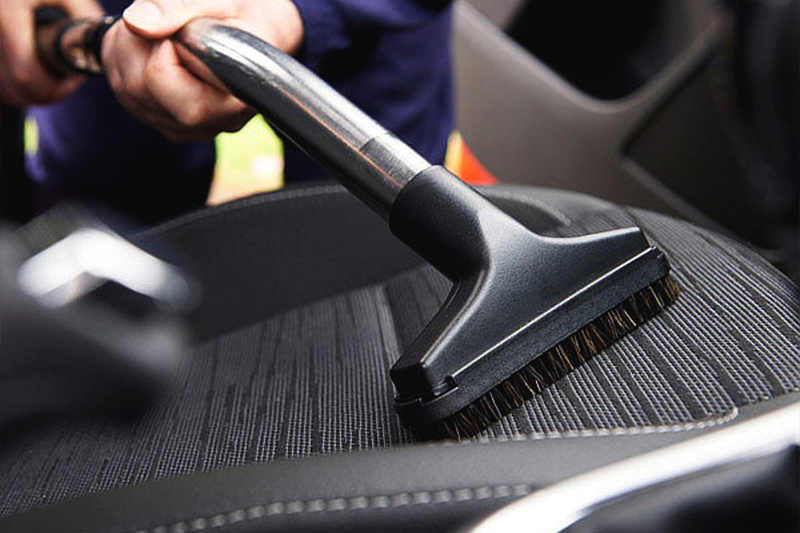 Before you head off to type "car wash near me" into Google Maps, there are a few things you should consider.
How Often You Should Get Your Car Washed
First of all, you should know how often you should go and get your car washed. Your car is one of your biggest investments, even if you lease it, which is why you want to make sure it stays in excellent shape. Besides washing a car after it is obviously dirty, you should consider washing it as part of the rest of your car's maintenance routine. As a general rule, getting your car washed twice a month is enough for most people. If it's winter and salt trucks are throwing around salt constantly, you will want to wash your car a little more frequently. The salt can corrode the metal on your car, leading to rust. Also, if you are taking dirt or gravel roads on a regular basis, you will want to get your car washed a little more often as well.
What Kind of Water a Car Washing Service Is Using
In your mind, you are probably expecting a car wash to be using clean water on your car. After all, you are getting it washed. However, some car wash services are actually using water that was already used previously. This dirty water being used on your war will not provide as good of a clean as a service using fresh water would be able to offer.
How Far the Car Wash Is From Your Home
When you find a car wash close to your home, you will be saving yourself some time and money doing so. Today, you have the opportunity to get your car washed right at your home, which makes this a zero-mile option worth considering. You get to reduce the stress connected with finding time to go to a car wash, and one that is reputable.
Different Types of Car Washing Services
There are several different types of car washing services you can choose from. There are pros and cons to everything, with car washing services being no different. However, some options have bigger downsides than others. We are going to go over the major different types of car washes, to help you make the best decision possible for the care of your car.
Automatic/Drive-Thru Car Wash

When you think of a car wash, this is the kind you are most likely to conjure up images of. This is the fastest way to get your car washed. It is also very common, with these being located either at gas stations or as standalone garages.
The way this service works is that you drive up to the garage, place your car in neutral, and get pulled by a conveyor. Throughout the automated process, there are brushes, jets, and dryers that are involved in the car washing process.
While it may seem like this is a quick, thorough, and easy way to get your car washed, there is a serious downside to using this type of method: your car has a high chance of getting damaged.
Additionally, here are five ways these automated car wash facilities can severely hurt your car:
The curtains that have replaced coarse bristle brushes can get caught in things like your windshield wipers and antenna, potentially ripping them out.
Touchless car washes only use soap and harsh chemicals, as well as water, to avoid making contact with your car, which will either provide a lackluster clean or corrode your paint job.
The metal guardrail can wear down, causing damage to your tires.
Air dryers will leave water spots on your car, because they will not get all of the water off.
If there is a hand-washed component after going through the automated process, human error can create further damage to your paint job, by doing things like reusing a dirty wash cloth.
With the automatic nature of the machines used to wash cars at a facility such as this, there can be damage to your car's paint job. The brushes used have very coarse bristles that will easily create scratches on the paint of your car. Sure, they may get some dirt off of your car, but they will also take a bit of paint along with them. Every new scratch that gets created on your car's exterior becomes a collector of dirt. Over the long run, your car will actually look dirtier, with the paint looking more faded. If the scratches are large enough, they can even lead to your car sustaining damage from rust.
Mobile Car Wash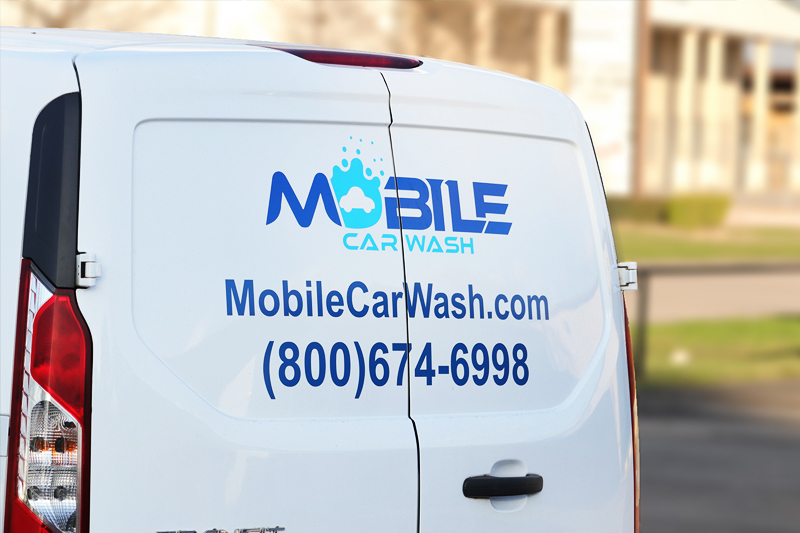 An increasingly popular method of washing cars is the mobile car wash. This is a service that shows up at your doorstep to wash and detail your car. Professional washers and detailers will clean your car by hand, which ensures there is no damage done to it. Every step of the process is done methodically and with great detail.
This process begins with setting up an appointment to get your car washed and detailed. You have the option of choosing where your want your car washed. Most people prefer to get this done at their homes, but sometimes other obligations force you to be away from your house. This is when you could request to have this service come to your office, or some other remote location.
Having your car washed at your house leaves out the hassle of driving somewhere to get it washed. Even though you can go to any one of a number of car detailing garages, you still have to carve out the time to do so. When you're at home, you can do whatever it is you had planned for that day, without washing your car ruining your plans.
These services bring all of their own equipment and cleaning supplies. When you have decided that you liked the job performed on your car by a specific technician, you have the option to request that same individual wash and detail your car whenever you need to.
This is a high-quality and detailed-oriented way to get your car washed. You will enjoy a completely spotless car, without any damage being done to it. When you find a great mobile car wash service, you can set up regularly scheduled appointments for their technicians to come to your house and clean your car.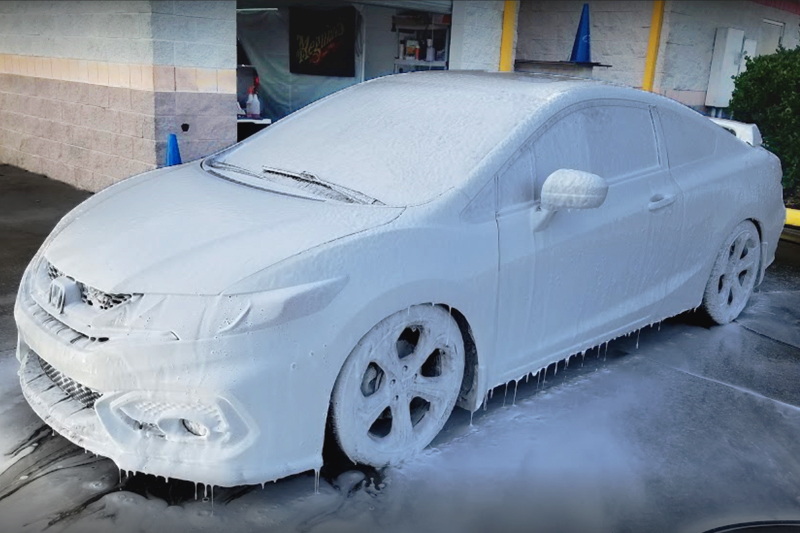 So, what's the bottom line regarding mobile car wash services?
For one thing, they give extraordinary attention to ensuring your car is exceptionally clean, looking as good as the day it rolled off the lot. It is also incredibly convenient, given you can stay at home and do whatever else you wanted to do. This is a big saver of your time and energy, which is something all of us wish we had more of. Finally, you have the smallest risk of damage being done to your car. When professional technicians wash and detail your car, they are giving it the expert touch they have refined from doing the same process for hundreds, or even thousands, of cars.
Will it cost more? Yes, a little. However, the high-quality nature of a mobile car wash service means that your money will have been well spent. You can even consider it money saved when you factor in opportunity costs when you go with some of the other options. You also get to avoid having to pay for damages sustained to your car from other service types.
Hand Car Wash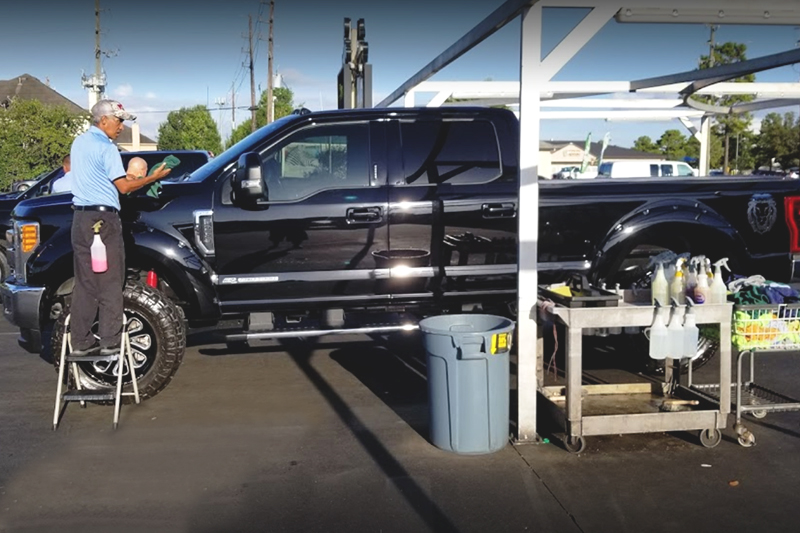 A remote alternative to the mobile car wash is a hand car wash facility. This is a location that you would drive to and have your car hand-washed by technicians. Of course, you have to carve out some time to do this, which is one its major downsides. Beyond that, it is quite similar to the mobile car wash.
You will show up and pay to have your car washed. Then, you will likely have your car run through an automated wash tunnel. Unlike automated car washes with coarse brushes, the process does not involve anything harsh like that. Additionally, high-quality supplies are used instead of corrosive chemicals.
After you car gets washed, a technician will drive it over to an area where it will proceed to get dried off. If you paid extra, this service will also detail your car. You get notified once they're done with this part of the process, which is when you can take back your car and drive off.
An issue with this type of car washing service is that it is not a true hand car wash. You car actually goes through an automated system, rather than it getting washed by hand, like you would expect. Since a major part of the service is automated, you run the risk of having certain parts of your car damaged, such as the side mirrors or the antenna.
Self-Service Car Wash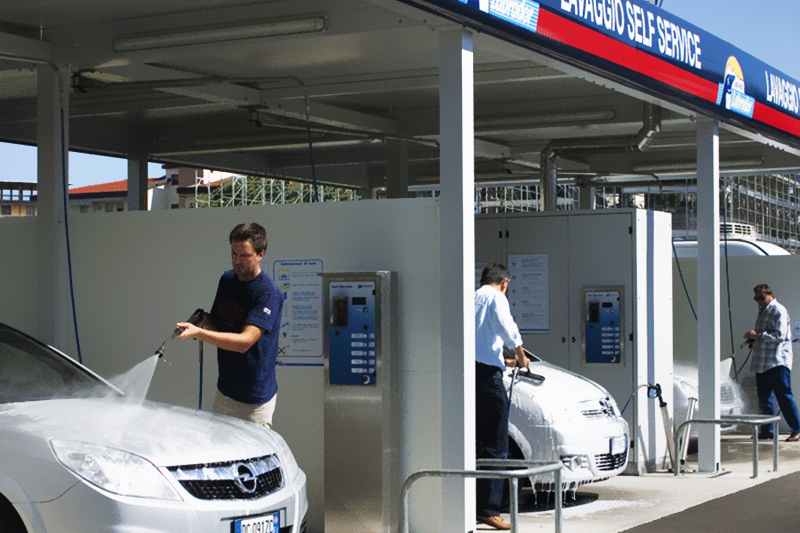 A self-service car wash is an interesting hybrid of other car wash options. It requires you to drive your car to a location that has a row of stations where you park your car and use on-site equipment to wash your vehicle. You will be doing all the work at a self-service car wash. This means that not only do you have to find the time to get to one of these, you will also have to spend money to wash your car yourself. That's not to mention the effort you will have to put into the whole process.
This is a viable alternative for people who enjoy washing their own cars, but lack a hose, driveway, or the supplies needed to perform a thorough clean. People living in apartments without their own garages may be interested in this type of service.
The process of washing your car at a self-service car wash goes a little something like this:
First, you drive up to the stations, select one, and park your car.
Next, you get out of your car and find the water sprayer, hosing down your car with the powerful hose provided.
You will then want to soap up your car, followed by rinsing it off and drying it completely. Again, all of the supplies you need will be provided.
Finally, you can add a protective layer of wax onto the paint job.
You maintain control over the entire process and have access to all of the supplies you will need to thoroughly wash your car. However, the downsides may outweigh the benefits of going to a self-service car wash station.
It can seem a waste of time and money to have to do all the work on your own. Also, you run the risk of doing a bad job, which can even result in damages to the exterior of your vehicle. This is not such a convenient option and will take up a good deal of your limited free time.
DIY Car Washing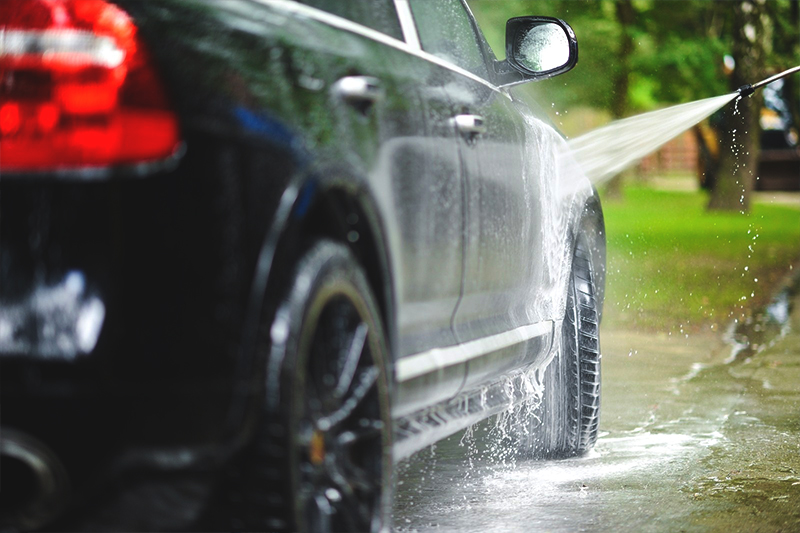 Washing your own car is a labor of love. It is definitely the most time-consuming way to wash your car.   Sure, it may be affordable, but with the amount of time and energy you are going to spend washing your car, you will probably realize that you will never want to do it again.
The steps involved in DIY car washing go a little something like this:
First, you need to get all the large debris and dirt off of the surface of your car. This should be done with warm water, to ensure you avoid damaging the paint job.
Next, you need to have a special cloth that will prevent you leaving any streaks behind from the water. Avoid using something like a paper towel. Microfiber or chamois leather cloths work well.
Finally, get some high-quality wax and proceed to wax the entirety of your car. You want to make sure your car's surface stays protected for as long as possible, which is what car wax will do for you. All of that hard work you put into washing your car will feel more worth it when your car stays cleaner for longer.
While it may seem like three steps makes for an easy process, there are certain details of this process that you should understand more clearly. If you want to clean your car in the best way possible, you need to pay attention to these.
First of all, you want to make sure you are not going to dry your car in the sun. While it may be your natural reaction to do this, you can actually make your car become unsightly with sunspots. This can make your car looking pretty bad, so avoid this drying technique at all costs.
The second thing you want to keep in mind is that when you are waxing your car, you need to make sure you are not waxing it out in full sun. Wax will distribute more uniformly when you do it out of direct sunlight, which will avoid wasting your efforts.
On-Demand Car Detailing Service
Now that you know everything important about car washing services, you can confidently find and select a car wash near me, like MobileCarWash.com. When you choose us, you are hiring professionals who know how to provide the cleaning and care your car needs to look brand new.
You won't have to be concerned with any damage that is often a risk at the usual stationary car wash garages. You can see plenty of videos online of the shocking kind of damage that occurs at those types of services, which will be enough to never desire going to them again. Now that you know about the risks, as well as time and energy investments you would have to make when washing a car yourself, you will probably not be so keen as to take on this job on your own.
When you put your car into the hands of MobileCarWash.com, you will rest assured that your car will get the highest level of detailed cleaning possible. Depending on what package you decide to go with, you can enjoy benefits ranging from not only getting the exterior of your car washed, but also having the interior of it cleaned. This includes interior wipe downs, vacuuming, deep cleaning of seats, and even pet hair removal. No matter what level of detail you are looking for, MobileCarWash.com can provide it for you.
After you make your appointment, we will dispatch our technician to you, making sure to arrive early and coming equipped with all of the necessary tools and equipment to give your car a detailed cleaning. Schedule your car wash with us today for a full service on-demand car wash!